Welcome to Japan!
Welcome to Japan!
Welcome to the ancient city of Kyoto!
Kyoto was selected as

the NO.1 city in the world by Travel+Leisure magazine in 2014 and 2015 consecutively.
How about visiting Kyoto with a local guide?
Inspiring Kyoto, Relaxing Kyoto...there are many different aspects in Kyoto.
ONLY TRAVEL, we will happy to customize your any requests.
Our professional guides are waiting for you.
Let's explore the roots of Kyoto together us.
We are ready to provide you with unforgettable memories and special experiences in Kyoto.
We looking forward to meeting you very soon.
Day Tour <KYOTO Walking tour>
Special Selection Tour Course KYOTO【Machi】 story
We would like everyone to experience the
real fun of Kyoto sightseeing.
Kyoto [Machi] story is the exploring tour guide
you to deepen Kyoto.
Walking around Kyoto townscape with us.
You can see real Kyoto and feel local atmosphere
and experience Kyoto.

Course examples
Ohara Area (North of central Kyoto) 
・One day (6hours)

Oboronoshimizu Spring →Mitsuru Craft→Yamashiro Ohara Post Office→Shusseinari Shrine→Sanzen-in Temple

Kakishibu is traditional Japanese persimmon dye. Let's try it together!
After making a stencil dyeing postcard on Japanese paper, try to mail it to the post office.

①Dyeing experience in the relaxing space in Ohara.
② Take you around to the mossy Sanzen-in Temple.
③Let's meet the original landscape of Japan used to be.
---
1日 6時間コース
朧の清水→「みつる工芸」→山城大原郵便局→出世稲荷神社→三千院

~京都大原の「みつる工芸」さんで「柿渋染」を体験しませんか?型染めの和紙のハガキを作って郵便局のポストへ投函しよう!~

①京都大原のゆったりとした空間で染め体験!
②苔むした三千院をじっくりご案内!
③のどかな里山で日本の原風景に出会いましょう~!
【Onsen】 Hot Springs
・One day (6hours)
Kyoto station→ Nagaokakyo station→Nagaoka Tenmangu→Ogurasansou Tikubunosato→Komyo-ji Temple→
NagaokaTenjin station→Rakusaiguti station→Takenosato Hot spring
Let's get into the natural hot spring at Rakusai-area, heal the fatigues on your journey.

① We will visit the temple where a Honen Shonin preached the teachings of "Nembutsu" for the first time and god of learning.
② Enjoy! Watching the beautiful garden, we can eat a Japanese traditional sweet (Wagashi) at Ogurasansou Café.
③Two types of hot spring sources moisturize smooth your skin more.
Enjoy your time.
---
1日 6時間コース

京都駅→長岡京駅→長岡天満宮→小倉山荘 竹生の郷→光明寺→長岡天神駅→洛西口駅→京都竹の郷温泉
~京都洛西で本物の天然温泉に入って旅の疲れを癒そう~
①学問の神様や法然上人が初めて「念仏」の教えを説いたお寺を訪ねます。
②大人気!「小倉山荘カフェ」で和菓子のスイーツをお庭を眺めながらいただきます。
③2種類の自家源泉の温泉でお肌もツルツルしっとりと…ゆっくりお過ごしください。
【Other examples】Harf Day Trip (3hour)
☆Half Day Trip (3 hours)

・Kiyomizu Temple&Jishu Shrine→Yasaka Shrine →Gion/Kagai→ Kenninji Temple(Zen Temple)
・Fushimi Inari Taisha Shrine→ Fushimi Momoyama-jo Castle →Gokonomiya Shrine →Otesuji Shopping Arcade →Gekkeikan Okura Sake Museum( Japanese Sake tasting )
・Nijyo-Castle →Mikane Shrine →Kyoto Imperial Palace →Shimogamo Shrine
【Other examples】One Day Trip (6hour)
☆One-day Trip (6 hours)
・Ginkakuji Temple(Silver Pavilion)→Mt.Daimonji (Nyoigatake) →Tetsugaku-no-michi(Path of Philosophy) →Honen-in Temple →Eikan-do Temple→Nanzenji-Temple→ Heian Jingu Shrine
・Eizan Railways→Kurama Spa→Kurama Temple→Kinone michi(forest-trail)→Kifune Shrine→Kifune Shrine Okumiya&Yui-no-yashiro
・Arashiyama Monkey Park Iwatayama→Togetsu-kyo Bridge→Tenryuji Temple →Bamboo Grove →Nonomiya Shrine→Arashimaya Line→Ninnaji Temple→Ryoanji Temple →Kinkakuji Temple(Golden Pavilion )
カタログはこちら (Web Catalog )
【日本語版】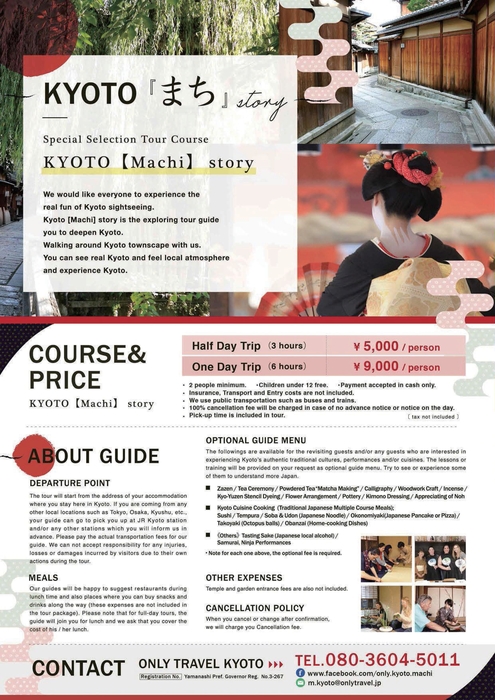 English ver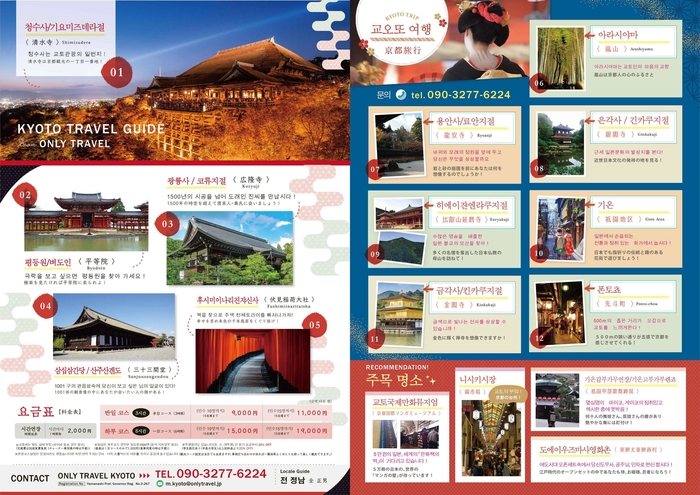 Korean ver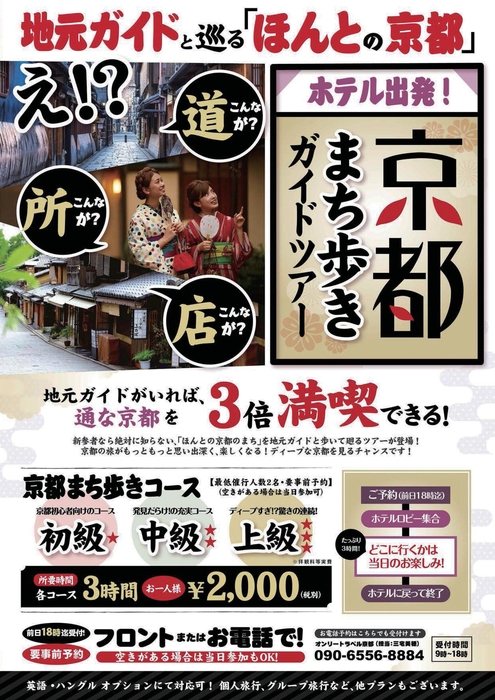 京都まち歩きガイドツアー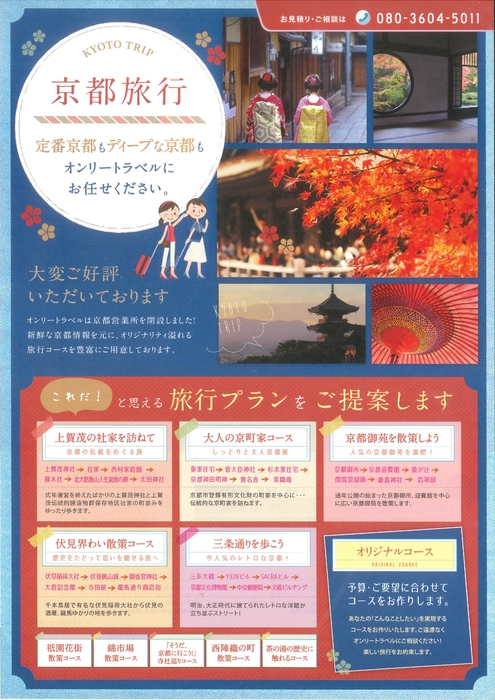 京都 町歩き モデルコース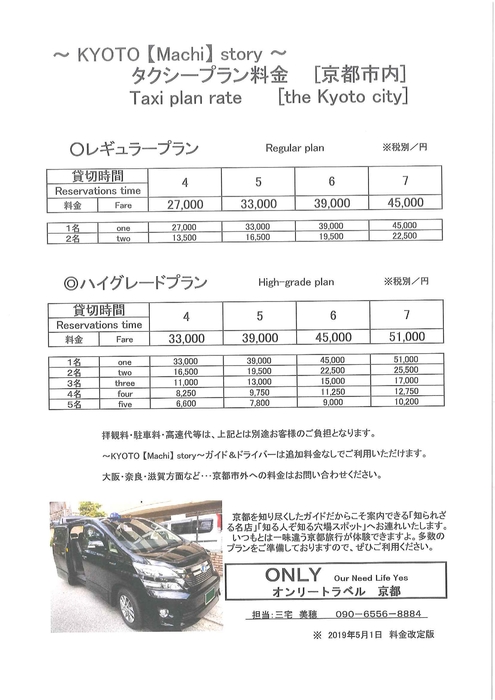 京都タクシープラン