Welcome to Japan!
Welcome to Japan!
Welcome to the ancient city of Kyoto!

Kyoto was voted the number one city in the world by Travel+Leisure magazine in 2014 and 2015.

Why not visit Kyoto with a local guide?

Inspiring Kyoto, Relaxing Kyoto... there are many different aspects to Kyoto.

At ONLY TRAVEL, we will be happy to accommodate your every wish.

Our professional guides await you.

Let's explore the roots of Kyoto together.

We are ready to provide you with unforgettable memories and special experiences in Kyoto.

We look forward to meeting you soon.

Day Tour <KYOTO Walking tour>
Special Selection Tour Course KYOTO【Machi】 story
We would like everyone to experience the
real fun of Kyoto sightseeing.
Kyoto [Machi] story is the exploring tour guide
you to deepen Kyoto.
Walking around Kyoto townscape with us.
You can see real Kyoto and feel local atmosphere
and experience Kyoto.

Course examples
Ohara Area (North of central Kyoto) 
・One day (6hours)

Oboronoshimizu Spring →Mitsuru Craft→Yamashiro Ohara Post Office→Shusseinari Shrine→Sanzen-in Temple

Kakishibu is a traditional Japanese dye. Let's try it together!
After making a stencil dyeing postcard on Japanese paper, let's mail it to the post office.

①Dyeing experience in the relaxing space in Ohara.
②

Take you around to the mossy Sanzen-in Temple.


③Let's meet the original landscape of Japan used to be.
【Onsen】 Hot Springs
・One day (6hours)
Kyoto station→ Nagaokakyo station→Nagaoka Tenmangu→Ogurasansou Tikubunosato→Komyo-ji Temple→
NagaokaTenjin station→Rakusaiguti station→Takenosato Hot spring
Let's get into the natural hot spring at Rakusai-area, heal the fatigues on your journey.
① We will visit the temple where a Honen Shonin preached the teachings of "Nembutsu" for the first time and god of learning.
② Enjoy! Watching the beautiful garden, let's eat a Japanese traditional sweet (Wagashi) at Ogurasansou Café.
③
Enjoy your relaxing time with the two kinds of private hot springs that make your skin smooth and moist.
Japanese Taiko Experience
Kyoto station →Fushimi Inari Taisya Otabisho→Toji Temple→Rokusonou Shrine→Taiko Center
One day (6 hours)
Kyoto station →Fushimi Inari Taisya Otabisho→Toji-temple→Lunch at Machiya→Nishi-Honganji Temple→Taiko Center
How about a traditional Japanese drum experience in Kyoto? You can actually beat the Taiko by yourself.
① Stop by famous Fushimi Inari Taisha Otabisho. (Otabisho is the place where the sacred palanquin is lodged during a festival)
②
If you choose a 6-hour course, you can eat an original Kyo-lunch box(bento) at Machiya relaxingly.
【Other examples】Half Day Trip (3hour)
☆Half Day Trip (3 hours)

・Kiyomizu Temple&Jishu Shrine→Yasaka Shrine →Gion/Kagai→ Kenninji Temple(Zen Temple)
・Fushimi Inari Taisha Shrine→ Fushimi Momoyama-jo Castle →Gokonomiya Shrine →Otesuji Shopping Arcade →Gekkeikan Okura Sake Museum( Japanese Sake tasting )
・Nijyo-Castle →Mikane Shrine →Kyoto Imperial Palace →Shimogamo Shrine
【Other examples】One Day Trip (6hour)
☆One-day Trip (6 hours)
・Ginkakuji Temple(Silver Pavilion)→Mt.Daimonji (Nyoigatake) →Tetsugaku-no-michi(Path of Philosophy) →Honen-in Temple →Eikan-do Temple→Nanzenji-Temple→ Heian Jingu Shrine
・Eizan Railways→Kurama Spa→Kurama Temple→Kinone michi(forest-trail)→Kifune Shrine→Kifune Shrine Okumiya&Yui-no-yashiro
・Arashiyama Monkey Park Iwatayama→Togetsu-kyo Bridge→Tenryuji Temple →Bamboo Grove →Nonomiya Shrine→Arashimaya Line→Ninnaji Temple→Ryoanji Temple →Kinkakuji Temple(Golden Pavilion )
カタログはこちら (Web Catalog )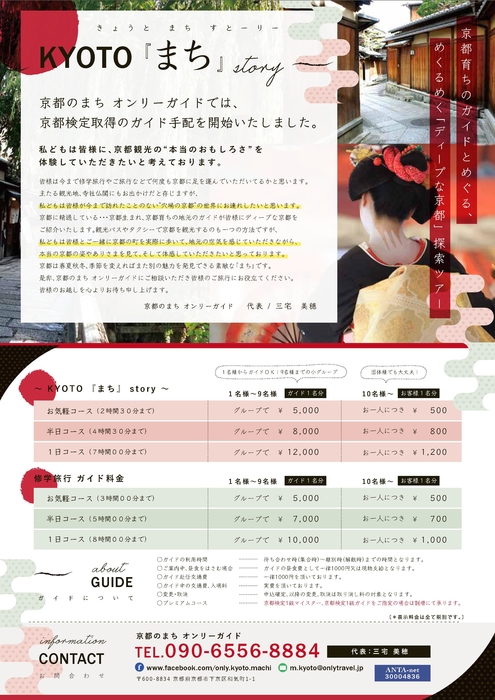 【日本語版】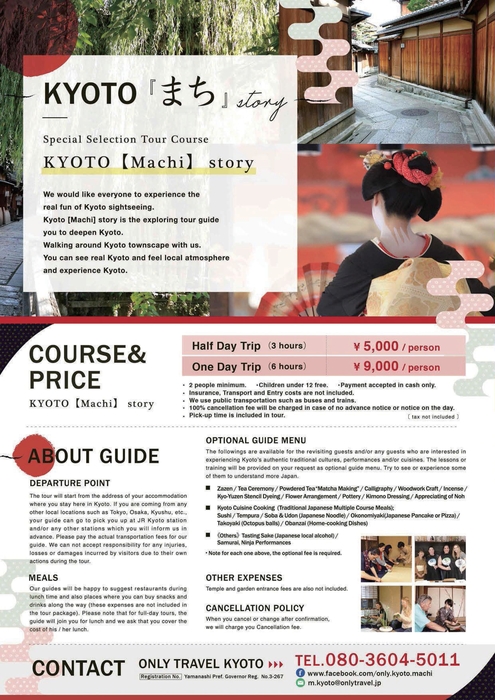 English ver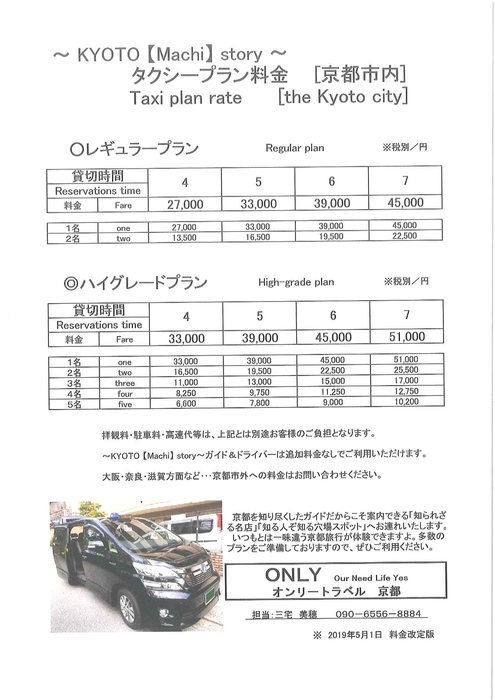 京都タクシープラン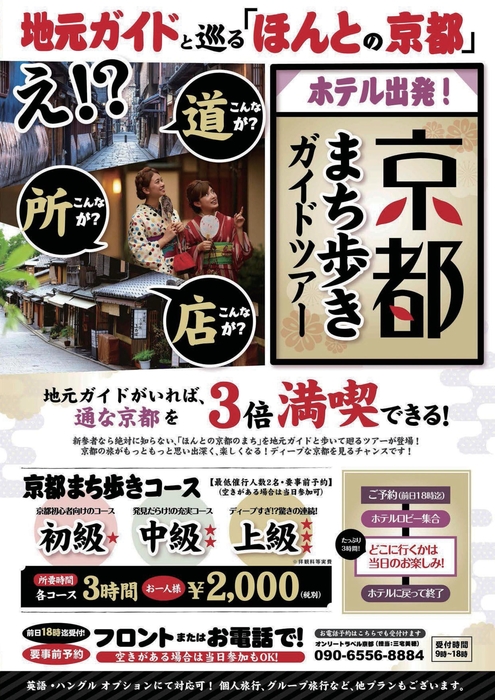 京都まち歩きガイドツアー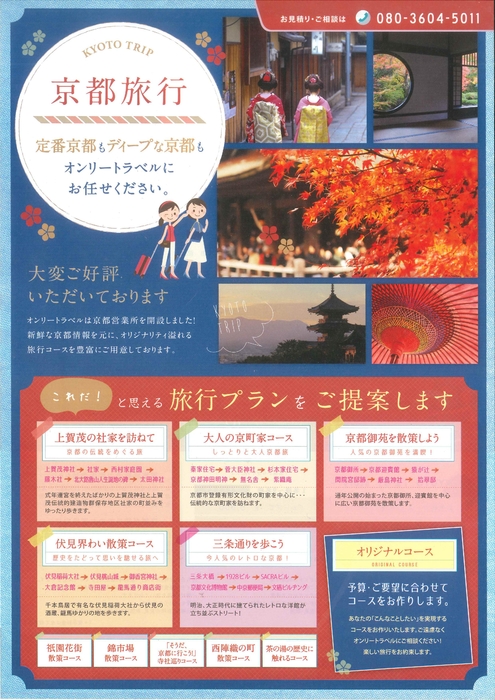 京都 町歩き モデルコース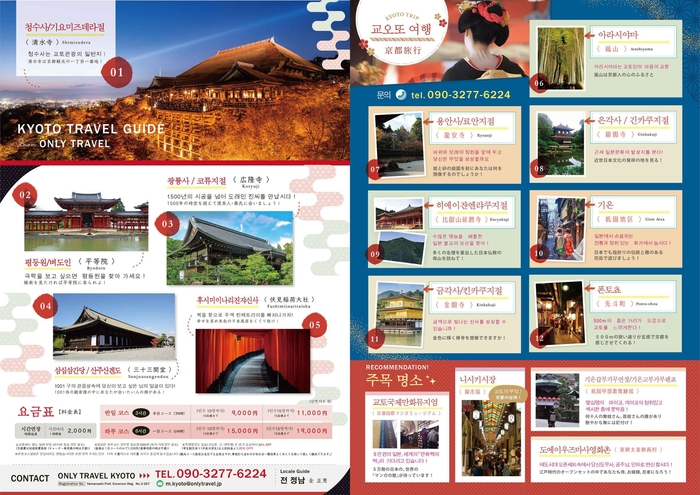 Korean ver